IEC 61850 Substation Automation
Why stick to Mod­bus, when you can migrate to IEC61850 today?
What is IEC 61850?
IEC 61850 is an inter­na­tion­al stan­dard that was devel­oped to improve the inter­op­er­abil­i­ty and com­mu­ni­ca­tion between intel­li­gent elec­tron­ic devices (IEDs) at sub­sta­tions. Unlike Mod­bus, DNP3 or IEC 60870, which are sig­nal-ori­ent­ed pro­to­cols with vary­ing data struc­tures, IEC 61850 is object-ori­ent­ed, mean­ing it defines the abstract data mod­els with a stan­dard­ized nomen­cla­ture.
Con­sec­u­tive­ly, IEC 61850 GOOSE, MMS and SMV pro­to­cols allow to map IEDs uni­form­ly and do no longer require ven­dor-spe­cif­ic libraries to dis­close the mean­ing of each data point. Due to the many advan­tages it holds for the future, the stan­dard has gained a firm posi­tion over the years and is now also applied beyond its orig­i­nal field of pow­er sys­tem automa­tion, e.g. in dis­trib­uted ener­gy resources (DER).
Improved redun­dan­cy with PRP and HSR, pro­vid­ing zero reac­tion time
High­er speeds using IEC 61850 GOOSE, MMS and SMV pro­to­cols on an Eth­er­net net­work
Flex­i­ble and sophis­ti­cat­ed log­ic schemes (e.g. inter­lock­ing or load shed­ding) for sub­sta­tion pro­tec­tion and automa­tion
Sign­f­i­cant cost sav­ings from reduced inter-wiring and no need for exter­nal pro­to­col con­vert­ers
High­er adapt­abil­i­ty

from rely­ing on soft­ware con­fig­u­ra­tion rather than hard­wired sig­nal paths

High­er net­work effi­cien­cy with advanced IEC 61850 GOOSE sup­port­ed VLAN and pri­or­i­ty tag­ging func­tion­al­i­ties via IEEE 802.1Q
High­er reli­a­bil­i­ty with GOOSE's con­tin­u­ous and inher­ent com­mu­ni­ca­tion and data integri­ty check­ups.
Migrate smooth­ly and step by step, from con­ven­tion­al or lega­cy sub­sta­tion automa­tion sys­tems to IEC 61850 based SAS with any iGrid T&D prod­uct you need.
Ben­e­fit from the easy-to-use iCon­fICD tool to cre­ate SCL files.
Use devices simul­ta­ne­ous­ly as data servers and data clients (all iRTU & iGW).
Map inter­nal I/Os or exist­ing IEDs (e.g. using Mod­bus RTU or IEC 60870–103 ) onto IEC 61850 log­i­cal devices using the iRTU as data serv­er.
Col­lect all data in real-time and from mul­ti­ple servers simul­ta­ne­ous­ly using IEC 61850 or any oth­er stan­dard pro­to­col with iCon­trol SCADA or map it to IEC60870‑5–104 or DNP3 with the iGW to report to 3rd par­ty con­trol cen­ters.
Col­lect data com­fort­ably and fast (under 3ms) with IEC 61850 GOOSE com­pli­ant iRTUe expan­sion units.
IEC 61850 Substation Automation
Using interoperability to unlock new potential
Con­sid­er­ing the ongo­ing dig­i­ti­za­tion and upcom­ing chal­lenges in the ener­gy sec­tor, a future in which every piece of elec­tric equip­ment will be car­ry­ing some type of set­ting and require remote mon­i­tor­ing and/or con­trol might be a lot clos­er than many expect. Man­ag­ing such a large num­ber of data points and com­mu­ni­cat­ing between dif­fer­ent IEDs from sev­er­al ven­dors, required the def­i­n­i­tion of a new, inter­na­tion­al­ly stan­dard­ized com­mu­ni­ca­tion design – mov­ing away from old ser­i­al port pro­to­cols to abstract, pro­to­col-inde­pen­dent data mod­els.
The answer to this was the IEC 61850 stan­dard. Since its first intro­duc­tion, it has under­gone many updates and exten­sions, matur­ing to a point at which sub­sta­tions all over the world are being auto­mat­ed ven­dor-inde­pen­dent­ly in com­pli­ance with the stan­dard. It is expect­ed that the effect of the IEC 61850 stan­dard as a com­pat­i­bil­i­ty enabler in pow­er sys­tem automa­tion will be com­pa­ra­ble to oth­er ground-brak­ing spec­i­fi­ca­tions, such as the effect of html on web ser­vices in the 90s. Final­ly, we can for­get mul­ti­ple pro­pri­etary pro­to­cols and unlock new poten­tial by turn­ing to ful­ly inter­op­er­a­ble sub­sta­tion automa­tion sys­tems (SAS) based on IEC 61850 tech­nol­o­gy.
Don't worry, we will help you!
Although IEC 61850 is the solu­tion to many inter­op­er­abil­i­ty chal­lenges, migrat­ing to IEC 61850 can look over­whelm­ing at first. The co-exis­tence of old and new gen­er­a­tion devices com­ing from an increas­ing num­ber of ven­dors with an increas­ing num­ber of pro­to­cols is mak­ing today's elec­tri­cal net­works more and more com­plex, affect­ing sys­tem design, imple­men­ta­tion and main­te­nance. At the same time, the chang­ing ener­gy land­scape and dig­i­ti­za­tion require new ser­vices and func­tions, mak­ing it even more dif­fi­cult to suc­cess­ful­ly imple­ment and under­stand mod­ern sub­sta­tion automa­tion.
Migrat­ing to IEC 61850 and get­ting the new exper­tise to employ­ees can thus be a dif­fi­cult chal­lenge.
At iGrid T&D, our sup­port and imple­men­ta­tion engi­neers will help you over­come this chal­lenge. Their role is to make sure that our solu­tions based on IEC 61850 turn out to be the best solu­tion for you and that you are pre­pared to inde­pen­dent­ly devel­op new IEC 61850 projects in the future.
___
Read more about the use of IEC 61850 in MV grid automa­tion:
– 2011 PAC World Con­fer­ence arti­cle
– 2011 PAC World Con­fer­ence pre­sen­ta­tion
IEC 61850 SAS with redundant double Ethernet LAN
Exam­ple schema
Flexible and user-friendly solutions for a smooth transition
It is our pri­or­i­ty at iGrid T&D to sup­port the devel­op­ment of your sub­sta­tion automa­tion sys­tems and pre­pare your staff in a sim­ple yet tech­no­log­i­cal­ly sound way. For this rea­son, we used our know-how to design pow­er­ful and flex­i­ble hard­ware, which can be eas­i­ly adjust­ed to your needs with our free iConf tool. The new­er iConf ver­sions include the pow­er­ful iCon­fICD tool, which has been par­tic­u­lary designed to facil­i­tate the con­fig­u­ra­tion of IEC 61850 devices.
With our state-of-the-art prod­ucts we want to make the tran­si­tion to IEC 6185O as smooth as pos­si­ble. Our solu­tions ensure that you no longer need to wor­ry about inter­op­er­abil­i­ty and net­work inef­fi­cien­cies. Our RTUs and gate­ways can com­mu­ni­cate using numer­ous pro­to­cols via Eth­er­net or ser­i­al con­nec­tions and inte­grate seam­less­ly with our intu­itive soft­ware solu­tions, which come with all func­tion­al­i­ties you need.
With our prod­ucts, you will not only improve the effi­cien­cy of your ener­gy sys­tems through­out the entire life-cycle, but also be able to:
com­fort­ably

react to any kind of net­work change (big or small)
set-up open and scal­able net­work archi­tec­tures
retro­fit third par­ty devices
Our devices are already con­fig­urable and ver­sa­tile by design, but we also pro­vide fur­ther prod­uct con­fig­u­ra­tions and tai­lored ser­vices upon request.
High-Speed Busbar Protection by Thytronic Group
Flex­i­bil­i­ty, adapt­abil­i­ty and effi­cien­cy from rely­ing on soft­ware con­fig­u­ra­tion rather than hard­wired sig­nal paths
Extreme­ly high mes­sag­ing speeds
Increased reli­a­bil­i­ty from inher­ent GOOSE data integri­ty checks
Net­work can be freely extend­ed and re-con­fig­ured at low cost
Thytronic Group Advantages
Par­tic­u­lar­ly fast pro­cess­ing time of iRTUe exten­sion units
Full IEC 61850 sup­port through­out all net­work devices (pro­tec­tions, I/Os, gate­way servers, mas­ters, SCADA etc.)
IEC 61850 GOOSE and MMS com­mu­ni­ca­tion
Many years of in-field expe­ri­ence in a diverse range of appli­ca­tions
Not only iGrid T&D but also our group partner Thytronic, Italian market leader for protection relays, is actively investing in IEC 61850 technology. The novel X MORE series features native IEC 61850 support including the standard's horizontal GOOSE (Generic Object Oriented Substation Event) communication protocol.
By com­bin­ing Thytron­ic relays and iGrid T&D mas­ter devices and iRTUe exten­sion units, peer-to-peer GOOSE com­mu­ni­ca­tion can be used over an Eth­er­net-based sub­sta­tion net­work (replac­ing hard-wired block­ing sig­nal paths between switchgears) to enable sophis­ti­cat­ed log­ic schemes for sub­sta­tion pro­tec­tion and automa­tion.
Some of the most wide­ly known and accept­ed exam­ples are inter­lock­ing bus­bar pro­tec­tion schemes, cir­cuit break­er fail­ure pro­tec­tion, pow­er qual­i­ty con­trols of par­al­lel pow­er trans­form­ers and selec­tive arc fault pro­tec­tion.
Inter­lock­ing schemes are par­tic­u­lar­ly pop­u­lar as they take advan­tage of the increased speed and secu­ri­ty pro­vid­ed by GOOSE mes­sag­ing, in addi­tion to being a tra­di­tion­al­ly sim­ple and effi­cient method to pro­tect bus­bars in dis­tri­b­u­tion sub­sta­tions.
So how does inter­lock­ing work?
When a fault occurs on the bus­bar, the inter­con­nect­ed relays quick­ly coor­di­nate, caus­ing the relays of the incom­ing feed­ers to block the relays of the out­go­ing feed­ers and then trip the CB of the incom­ing feed­er. The same hap­pens vice ver­sa when a fault aris­es on an out­go­ing feed­er and the relays of the incom­ing feed­er are pro­hib­it­ed to act.
Max­i­mum Speed with GOOSE
Since GOOSE mes­sages are sent relay-to-relay, through an Eth­er­net LAN and thus there is no addi­tion­al delay from inter­me­di­ary equip­ment such as input fil­ters or aux­il­iary relays. The block­ing sig­nals can be sent faster than in tra­di­tion­al, hard­wired inter­lock­ing schemes. Peer-to-peer com­mu­ni­ca­tion allows to send block­ing sig­nals to all relays at once, mak­ing the total oper­at­ing time inde­pen­dent from net­work size, com­plex­i­ty or topol­o­gy.
With the fast pro­cess­ing time of iRTUe I/O exten­sion units you can ful­ly take advan­tage of this speed. iRTUes can direct­ly com­mu­ni­catate with realys, inte­grat­ing ana­log and dig­i­tal pow­er qual­i­ty mea­sures to the scheme with almost no delay.

GOOSE Also Pro­vides High­er Reli­a­bil­i­ty and Adapt­abil­i­ty
In addi­tion to the native secu­ri­ty fea­tures of inter­lock­ing schemes, the oper­a­tional reli­a­bil­i­ty can be fur­ther enhanced by the inher­ent super­vi­sion of GOOSE mes­sages. When a block­ing cir­cuit is bro­ken, unnec­es­sary trip­ping is avoid­ed as the block­ing is not being issued. Instead of ren­der­ing the pro­tec­tion inop­er­a­tive in such a case, GOOSE' inher­ent super­vi­sion gen­er­ates an alert to ini­ti­ate the maintenance/repair process and react as quick­ly as pos­si­ble.
This super­vi­sion func­tion can also be utilised to adapt to appli­ca­tion require­ments. Depend­ing on the object to be pro­tect­ed, one func­tion must often be pri­or­itzed over anoth­er. For instance, it may be nec­es­sary to sac­ri­fice some oper­a­tion speed in order to achieve selec­tiv­i­ty or vice ver­sa. Such adjust­ments can be eas­i­ly made to the con­fig­u­ra­tion of the GOOSE ser­vice in order to obtain the best pro­tec­tion pos­si­ble.
Why opt for the full Thytron­ic Group Pack­age?
Aside from the advan­tages that Thytron­ic Group prod­ucts offer indi­vid­u­al­ly, exe­cut­ing a project under one umbrel­la brings many pos­i­tive syn­er­gies, spe­cial­ly in terms of coor­di­na­tion and inter­face engi­neer­ing between prod­ucts.
This leads to sign­f­i­cant cost and time sav­ings for the cus­tomer, who also ben­e­fits from:
A sin­gle con­tract for the entire pack­age
Cost-effec­tive pro­vi­sion, sup­ply and project man­age­ment
A sin­gle point of con­tact for the entire project
Quick­er start­up, comis­sion­ing and engi­neer­ing
Reduced cus­tomer risk
Solution Benefits & Functions
A‑Level certified IEC 61850 compliance
Tailored solutions according to your needs
State-of-the-art IEC 61850 technology
Customized training & support
Remote maintenance/ testing
Reliable and efficient protection functions
Improved reliability & security
Automatic (busbar) line coloring
Simple connection between IED and substation HMI
Simple device set-up/ deployment
Graphical visualization of measurements & data
Remote substation monitoring and control
Optimized efficiency and productivity
High-speed, intelligent interlocking with GOOSE
Local & global alarm generation
Role-based access control
High-precision timestamping and event recording
Automatic switching sequences
No need for auxiliary relays and hardwired interfaces
PLC automation with IEC 611313
Engineering & maintenance cost reduction
iControl or 3rd party SCADA
Automatic interlocking supervision
Intelligent zoom on one-line diagram
Reduced space for human error
Comissioning cost reduction
In this HV sub­sta­tion automa­tion project the tran­si­tion to IEC 61850 is made pos­si­ble with the iGW-S3 (Eth­er­net switch mod­el) which com­mu­ni­cates with the Pro­come pro­tec­tion relays and maps all their infor­ma­tion (includ­ing sig­nals, alarms, mea­sures and com­mands) into IEC 61850 log­i­cal devices.
In this project iRTUe expan­sion units help the iRTU col­lect data data via IEC 61850 in order to auto­mate 9 medi­um volt­age sub­sta­tions at the Sabi­ha Gökçen Air­port (Turkey)
In this project, the iCon­trol SCADA and iRTUs com­mu­ni­cate with numer­ous meters and pro­tec­tion relays from dif­fer­ent man­u­fac­tur­ers using a vari­ety of pro­to­cols such as Mod­bus, IEC60870‑5–103 or IEC 61850. iCon­trol reports to the exist­ing con­trol cen­ters via IEC 104 and DNP3.
iConfICD Tool
iCon­fICD is a state-of-the-art ICD design tool for the cre­ation of ICD and CID files and the con­fig­u­ra­tion and mod­el­ling of IEC 61850 servers.
The tool can be used to set up any device sup­port­ing IEC 61850 com­mu­ni­ca­tion. It allows to cre­ate all of the stan­dard­'s Log­i­cal Devices and Log­i­cal Nodes, as well as to select the cor­re­spond­ing Data Objects, while strict­ly fol­low­ing the guide­lines of the IEC 61850 edi­tion 2 stan­dard. With the inte­grat­ed iEd­it tool, expert pro­fes­sion­als can also man­u­al­ly access and mod­i­fy SCL files with­out restric­tions.
iControl Substation SCADA
High-per­for­mance SCADA for the visu­al­iza­tion and con­trol of sub­sta­tion data. It is able to run either in client/server or stand­alone modes, pro­vid­ing advanced func­tion­al­i­ties such as hot-stand­by redun­dan­cy, auto­mat­ic line col­or­ing, events noti­fi­ca­tion (via e‑mail and sms), SQL log­ging, and reports gen­er­a­tion.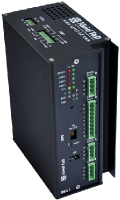 iRTU – With I/Os for Direct Data Acquisition
Com­pact and scal­able bay con­troller which can act as IEC 61850 client or serv­er, fea­tur­ing con­fig­urable I/O boards for direct data acqui­si­tion, high-pre­ci­sion time­stamp­ing and an option­al Eth­er­net switch for addi­tion­al Eth­er­net ports.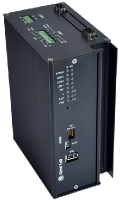 iGW‑S Substation Gateway
Pow­er­ful and reli­able sub­sta­tion gate­way, able to run either in stand­alone or redun­dant modes, with an embed­ded Eth­er­net switch (4 ports) and IEC 61850 client and serv­er capa­bil­i­ties.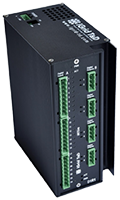 iRTUe – Remote I/O Extensions
iGWs, iRTUs and third par­ty mas­ter units can be freely extend­ed by con­nect­ing one or sev­er­al iRTUe.
They can speak IEC 61850 (GOOSE) and come in many con­fig­u­ra­tions such as 48 DI, 16 relays, 16 AI, 24 DI + 8 relays, 24 DI + 8 AI or 8 relays + 8 AI.
Do you need more information?
We are hap­py to assist you!
Basic infor­ma­tion about our data pro­tec­tion:
Insti­tu­tion in charge: IGRID SL. Pur­pos­es of data pro­cess­ing: Cus­tomer con­tact. Archived data loca­tion: Raio­la Net­works SL (UE). Per­son­al data retain peri­od: Until removal request. Rights: You can exer­cise your rights of access, rec­ti­fi­ca­tion, can­cel­la­tion and oppo­si­tion.