iControl SCADA — Automation Made Simple
SCADA for Sub­sta­tion Automa­tion, Pow­er Dis­tri­b­u­tion Sys­tems & Auto­mat­ed Gen­er­a­tion Control
Super­vi­so­ry Con­trol and Data Acqui­si­tion (SCADA) sys­tems are fun­da­men­tal for the automa­tion and local/remote con­trol of gen­er­a­tion plants and sub­sta­tions. iCon­trol SCADA soft­ware is adapt­able to any appli­ca­tion require­ments, from small sub­sta­tions and pow­er plants to full medi­um volt­age grids, always work­ing in the same environment.
Our SCADA automa­tion sys­tems pro­vide an intel­li­gent HMI for real-time mon­i­tor­ing and con­trol com­bined with advanced data acqui­si­tion, regard­less of the com­mu­ni­ca­tion pro­to­col, the RTU to con­nect to, or the archi­tec­ture (stand­alone, client/server or redun­dant) in place.
iCon­trol SCADA also guar­an­tees com­plete inter­op­er­abil­i­ty and unites all impor­tant func­tion­al­i­ties for elec­tric­i­ty dis­tri­b­u­tion net­works, such as sin­gle-line dia­grams, play­back event repro­duc­tion, qual­i­ty of ser­vice cal­cu­la­tions (SAIDI & SAIFI ratios), tem­plates or SQL data­base and alarm/event man­age­ment. It was specif­i­cal­ly designed for the ener­gy sec­tor, allow­ing us to cre­ate a sim­ple and intu­itive inter­face for the oper­a­tion and con­fig­u­ra­tion of sub­sta­tion automa­tion sys­tems (SAS) and dis­tri­b­u­tion con­trol centers.
Secured, high-per­for­mance and easy-to-use SCADA HMI con­trol soft­ware with all rec­om­mend­ed fea­tures for elec­tric­i­ty dis­tri­b­u­tion sys­tems, going beyond indus­try require­ments to ful­fill par­tic­u­lar client needs
Adapt our SCADA to your pre­ferred architecture/ topol­o­gy, from sim­ple stand­alone sys­tems to com­plex redun­dant schemas with remote clients and SQL data storage
Ana­lyze and visu­al­ize your elec­tric­i­ty dis­tri­b­u­tion net­work com­fort­ably in real-time on a sin­gle plat­form or con­nect its data archive to a 3rd par­ty database
Gen­er­ate cus­tomized reports, trig­gered peri­od­i­cal­ly or by any kind of event/alarm
Man­age mul­ti­ple com­mu­ni­ca­tion pro­to­cols at the same time – from sim­ple Mod­bus to IEC 61850 (MMS & GOOSE), both mas­ter and slave, includ­ing com­mon pro­to­cols for con­trol cen­ter com­mu­ni­ca­tion, such as IEC 60870–5‑104/101, DNP3.0 or OPC UA
Dis­play the SCADA in real-time with an inter­net brows­er using the iCon­trol web view­er, block­ing any unwanted/dangerous activ­i­ty with inte­grat­ed safe­ty measures.
Intelligent User Interface
iCon­trol's smart zoom pro­vides an intel­li­gent overview of the entire grid, show­ing or hid­ing ele­ments accord­ing to the applied the zoom.
Fur­ther­more, the user can eas­i­ly switch between edi­tion and run-time mode, as well as between ener­gy or flow-based bus­bar coloring.
SQL and Reporting
All the infor­ma­tion col­lect­ed and gen­er­at­ed by iCon­trol can be stored in an SQL data­base for sys­tem analy­ses and reporting.
iCon­trol can also gen­er­ate cus­tomiz­able reports by itself, which can be sent to main­te­nance teams or engi­neer­ing departments.
Edition & Runtime Mode
iCon­trol does not require a spe­cial license to build or mod­i­fy a project, but it does require the cor­re­spond­ing user level.
This fea­ture is a big advan­tage dur­ing deploy­ments, as the sys­tem can be mod­i­fied direct­ly on the serv­er, with­out the need of any extra engi­neer­ing ter­mi­nal, and with­out los­ing com­mu­ni­ca­tion with field devices.
Web Viewer & Smart Zoom
iCon­trol Web Viewer
iCon­trol can be mon­i­tored remote­ly via its web appli­ca­tion, allow­ing to review all sin­gle line dia­grams, schemas, list­ings and his­tor­i­cal data comfortably.
Smart Zoom
The iCon­trol smart or declut­ter­ing zoom pro­vides an intel­li­gent, clear overview of the entire grid, show­ing or hid­ing ele­ments accord­ing to the applied the zoom.
IEC61131‑3 PLC Automation
The iCon­trol appli­ca­tion includes PLC automa­tion sequences which can be pro­grammed using the iConf PLC soft­ware, based on the IEC 61131–3 standard.
Client/Server Architecture
iCon­trol can be deployed as a stand­alone sys­tem or in a client/server archi­tec­ture, in which all the infor­ma­tion is gath­ered and stored on the serv­er sta­tion, with one or sev­er­al sys­tem oper­a­tors con­nect­ed to the local­ly or remote­ly acces­si­ble client terminals.
Redundancy
Crit­i­cal sys­tems depend on redun­dan­cy capa­bil­i­ties to ensure the nec­es­sary reli­a­bil­i­ty. With iCon­trol you can add hot-stand­by servers to client/server architectures.
The switchover can either be trig­gered auto­mat­i­cal­ly by the active device or man­u­al­ly by the oper­a­tor. IEDs and iCon­trol clients are always con­nect­ed to both servers, and switched auto­mat­i­cal­ly dur­ing switchover.
Busbar Coloring
Bus­bar col­or­ing or topo­log­ic col­or­ing is a fea­ture that offers auto­mat­ic pow­er line col­or­ing (ALC) based on grid topol­o­gy and volt­age lev­el. The user can assign col­ors to the dif­fer­ent ener­giza­tion sta­tus­es: ener­gized (under pow­er), not ener­gized (not fed), and ground­ed. The lines (bus­bars and con­nec­tions) and graph­i­cal com­po­nents (cir­cuit break­ers, trans­form­ers, iso­la­tors etc.) are then col­ored accordingly.
In the ener­gized case, the lines and ele­ments may be dis­played in two dif­fer­ent modes:
Ener­gy-based – col­or­ing accord­ing to volt­age level.
Flow-based – col­or­ing accord­ing to pow­er flow.
The lat­ter allows dis­tin­guish­ing dif­fer­ent pow­er flows by col­or (one col­or per flow), i.e. dis­play parts of the grid sup­plied by the same incom­ing feed­er with the same color.
Signals and Data Presentation
Mul­ti­ple list options to dis­play col­lect­ed information:
Sequence of events
Active alarms
Alarm acknowl­edg­ment
His­tor­i­cal events
His­to­ry of measurements
Trend charts can be user-defined, sim­ply attached to schemas and viewed by the oper­a­tor at any time dur­ing operation
Sig­nal types sup­port­ed by the SCADA include: dig­i­tal inputs, dig­i­tal com­mands, coun­ters, ana­log inputs and set points
Data Storage and Reporting
CSV file to auto­mat­i­cal­ly store the sequence of events (SOE) of dig­i­tal and ana­log points
SQL all col­lect­ed data can be stored in SQL data bases to facil­i­tate pos­te­ri­or analyses
Report­ing cus­tomized report­ing can be auto­mat­i­cal­ly trig­gered by an event/alarm, or peri­od­i­cal­ly gen­er­at­ed. Reports are stored on the serv­er and can be sent by email
Protocol Stack
Master/Slave IEC 60870–5‑101
Mas­ter IEC 60870–5‑102
Mas­ter IEC 60870–5‑103
Master/Slave IEC 60870–5‑104
Master/Slave DNP3.0 (ser­i­al, UDP, TCP)
Master/Slave Mod­bus­R­TU
Mas­ter Profibus DP Master/Slave
Mod­bus TCP/UDP and JBUS (mas­ter)
Mas­ter IEC 62056–21
Mas­ter DLMS
Mas­ter Spabus, Mlink, Procome
SNMP Agent/Manager
IEC 61850 MMS Client/Server
IEC 61850 GOOSE Publisher/Subscriber
Simple Configuration with iConf
iConf has been specif­i­cal­ly devel­oped for elec­tri­cal appli­ca­tions, sav­ing you lots of time and mon­ey through­out the con­trol sys­tem set-up and main­te­nance tasks, whilst also min­i­miz­ing your project risks. Upload and down­load your con­fig­u­ra­tions, import or scan SCL files (61850) and cre­ate your own tem­plates.
iGComms Software Application
Secu­ri­ty IEC 62351–3 and IEC 62351–5 sup­port, includ­ing TLS/SSL, SSH and VPN connections
IEC61131‑3 automa­tion log­ic and PLC pro­gram­ming, with LD, FBD, ST and SFC editor
LUA lan­guage can be used to cre­ate sim­ple and com­plex log­ic and math­e­mat­i­cal expressions
Architecture
Redun­dan­cy deploy­able on a hot-stand­by con­fig­u­ra­tion, with redun­dant servers and data bases to improve sys­tem reliability
Client/Server the iCon­trol serv­er col­lects & stores all field data with all sup­port­ed pro­to­cols.
The iCon­trol Client is used to oper­ate the sys­tem and pro­vides the lists and graphs.
RTUs & IEDs only com­mu­ni­cate with the serv­er, while the oper­a­tion con­sole can be dis­trib­uted on sev­er­al clients, using native appli­ca­tions or web browsers.
Stand­alone iCon­trol runs on win­dows com­put­ers and has all the func­tion­al­i­ties to man­age an entire project: com­mu­ni­ca­tion, oper­a­tion, edi­tion & storage.
General Characteristics
Sim­ple con­fig­u­ra­tion and main­te­nance with our free iConf tool.
Com­mand con­sole with full pack­et exchange infor­ma­tion, with all avail­able protocols
Quick switch­ing between the edi­tion and run­time modes with­out inter­rupt­ing the operation
Web view­er with iCon­trol you can dis­play all the SCADA infor­ma­tion (includ­ing schemas, list­ings and trends) on a web browser
Mul­ti­lin­gual eas­i­ly trans­lat­able to any lan­guage and alphabet
Low resource con­sumer, exe­cutable on any com­put­er using Win­dows or Win­dows Server
iControl as Substation HMI, local SCADA and Gateway
Exam­plary schema of a sub­sta­tion with two redun­dant Eth­er­net LANs using iCon­trol as sub­sta­tion SCADA and gateway
● Includ­ed feature

○ Option­al feature

Con­tact iGrid T&D for
oth­er configurations

HMI
SA
Lite
SA
Plus
CC
Lite
CC
Smart
CC
Plus
| | | | | | | |
| --- | --- | --- | --- | --- | --- | --- |
| Data Stor­age | | | | | | |
| CSV Data Storage | ● | ● | ● | ● | ● | ● |
| SQL event log­ging + advanced reporting | | ○ | ● | ● | ● | ● |
| iCon­trol Web server | | ○ | ○ | ● | ● | ● |
| | | | | | | |
| --- | --- | --- | --- | --- | --- | --- |
| Main­te­nance | | | | | | |
| E‑mail alarms | ● | ● | ● | ● | ● | ● |
| SMS alarms (needs an exter­nal SMS system) | | | | ● | ● | ● |
Num­ber of IEDs/ Mas­ter Sta­tions
and IO Points
Up to 6 IEDs/ 750 IO (for HMI iCon­trol Edition)
●
Up to 32 IEDs / 6.000 IO
●
Up to 150 IEDs / 3 mas­ter stations/ 15.000 IO
●
Up to 150 IEDs/ 3 mas­ter stations/ 6.000 IO
●
Up to 500 IEDs/ 8 mas­ter stations/ 15.000 IO
●
>500 IEDs / >150.000 IO
○
Com­mu­ni­ca­tion Protocols
Master/Slave IEC60870‑5–101
Master/Slave IEC60870‑5–102
Master/Slave IEC60870‑5–103
Master/Slave IEC60870‑5–104
Master/Slave Mod­bus­R­TU
Master/Slave ModbusTCP/UDP
Master/Slave DNP3.0 Mas­ter JBUS
Mas­ter DLMS
Mas­ter Profibus­DP
Mas­ter Pro­come
Mas­ter IEC62056-21
Master/Slave SNMP
●
●
●
●
Client/Server IEC61850 MMS
○
○
○
○
○
○
Publisher/Subscriber IEC61850 GOOSE
○
○
○
○
○
○
File trans­fer
○
○
○
○
○
TASE2.0 / ICCP / IEC 60870–6
○
○
○
OPC UA client
○
○
○
○
○
○
PLC Automa­tion and
Bus­bar Coloring
PLC Automa­tion
●
●
●
●
●
Auto­mat­ic Line Coloring
●
●
●
●
●
●
| | | | | | | |
| --- | --- | --- | --- | --- | --- | --- |
| Exten­sion Options | | | | | | |
| Up to 2500 IO points | ○ | | | | | |
| Up to 15.000 I/O points | | ○ | ○ | ○ | | |
| Addi­tion­al float­ing client | | ○ | ○ | ○ | ○ | ○ |
Sys­tem Architecture
Stand­alone
●
●
●
Client/server archi­tec­ture:
Serv­er + 1 client
○
●
●
Redun­dan­cy: main and
hot-stand­by servers + 1 client
●
●
Redun­dan­cy: main and
hot-stand­by servers + 5 clients
●
iControl SCADA References
Secure & user-friend­ly HMI for utilities/ dis­tri­b­u­tion grids
Local data acqui­si­tion & con­trol soft­ware for ener­gy systems
Gate­way func­tion­al­i­ties for seam­less operation
Please fill out the reg­is­tra­tion form below to down­load the iCon­trol SCADA Demo
Sub­sta­tion Automation
Auto­mat­ic Gen­er­a­tion Control
PV Plant Mon­i­tor­ing and Control
Wind Park Mon­i­tor­ing and Control
Hydro­elec­tric Pow­er Plant Control
Sub­sta­tion Data Acqui­si­tion and Control
Elec­tric­i­ty Dis­tri­b­u­tion Networks
Sub­sta­tion Gateway
MV Grid Con­trol Center
Gen­er­a­tion Dispatch
Com­mu­ni­ca­tions Con­trol Center
Intel­li­gent Load Shedding
Rail­way Control
Ener­gy Man­age­ment System
In this project, iCon­trol is based on a client/server archi­tec­ture with 4 oper­a­tors con­trol­ling 4,000 mul­ti­ven­dor RTUs via IEC60870‑5–104, IEC60870‑5–101 and DNP3.0, through the pub­lic GPRS net­work, in the 25kV dis­tri­b­u­tion grid of Buenos Aires.
In this project, iCon­trol is used to remote­ly con­trol and super­vise over 100 pho­to­volta­ic gen­er­a­tion plants around Turkey. Each plant is owned by a dif­fer­ent investor who can access all the infor­ma­tion via web browser.
In this project, iCon­trol com­mu­ni­cates with meters and pro­tec­tion relays from dif­fer­ent man­u­fac­tur­ers using a vari­ety of pro­to­cols such as Mod­bus, IEC60870‑5–103 or IEC61850. iCon­trol reports to the exist­ing con­trol cen­ters via IEC 104 and DNP3.
In this project iCon­trol was imple­ment­ed as SCADA sys­tem (serv­er with float­ing clients) to super­vise and con­trol all com­mu­ni­ca­tion facil­i­ties (includ­ing radio base sta­tions, com­mu­ni­ca­tion links, UPS sys­tems, and CERs) of a major Span­ish elec­tri­cal util­i­ty via Mod­bus TCP, IEC 104 and SNMP.
iControl Web Viewer
Dis­plays iCon­trol SCADA in real time via web browser
Full­fills all safe­ty require­ments against poten­tial threats
Pre­pares and ren­ders the infor­ma­tion for inter­net brows­er connection
Spe­cial­ly designed for mon­i­tor­ing the elec­tri­cal grid with­out act­ing on it
Based on the open source Node web server
iControl's list­ings, charts, schemas, reports and oper­a­tion zones are also avail­able in iCon­trol Web Viewer.
iGrid T&D prod­ucts are adapt­able devices for an open and flex­i­ble architecture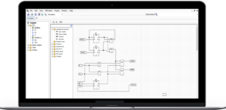 The freely scal­able iGW-VM sup­ports all archi­tec­tures using Win­dows or Lin­ux, act­ing as a sub­sta­tion gate­way, bay con­troller, RTU or com­mu­ni­ca­tion front-end for SCADA sys­tems. The iGW-VM is thus the per­fect soft­ware choice for projects with a predetermined/preferred hard­ware or a large grid to cov­er (high num­ber of datapoints).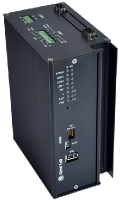 The iGW‑S pro­vides up to 4 Eth­er­net and 4 ser­i­al ports with an embed­ded Eth­er­net switch, as well as hot stand-by redun­dan­cy fea­tures and the full range of protocols.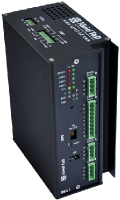 The iRTU is an intel­li­gent and scal­able bay con­troller with I/O capa­bil­i­ties for direct data acqui­si­tion, embed­ded Eth­er­net switch, and IEC61850 Client and Serv­er capabilities.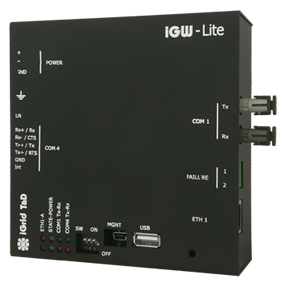 The iGWlite comes with 1 Eth­er­net, 1 RS485/RS422 and an option­al RS-232 port (cop­per or fiber) or a 2G/3G/4G mode – tak­ing lit­tle space on a DIN-Rail, but still employ­ing the full iGrid pro­to­col stack.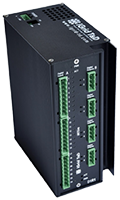 iGWs and iRTUs can be freely extend­ed by con­nect­ing sev­er­al iRTUe.
They are IEC 61850 (GOOSE) com­pli­ant and come in many con­fig­u­ra­tions such as 48 DI, 16 relays, 16 AI, 24 DI + 8 relays, 24 DI + 8 AI or 8 relays + 8 AI.
Sub­sta­tion Automa­tion with IEC61850
HV Sub­sta­tions
MV Dis­tri­b­u­tion Grids
Rail­way Automation
Pro­to­col Conversion
Smart Meter­ing
Wind Farm Generation
Hydro­elec­tric Generation
Pho­to­voltaics Generation
Do you need more information?
We are hap­py to assist you!
Basic infor­ma­tion about our data protection:
Insti­tu­tion in charge: IGRID SL. Pur­pos­es of data pro­cess­ing: Cus­tomer con­tact. Archived data loca­tion: Raio­la Net­works SL (UE). Per­son­al data retain peri­od: Until removal request. Rights: You can exer­cise your rights of access, rec­ti­fi­ca­tion, can­cel­la­tion and opposition.