iGWlite
Specialized communication unit for electrical facilities
iGWlite is a specialized communication unit for electrical facilities that require data conversion between different protocols.
Data from multiple devices (meters, protection relays, and other IEDs) may be ac- quired using field protocols (IEC60870–5–101/102/103/104, IEC61850 (MMS & GOOSE), DNP3.0, DLMS, Modbus, Procome, etc.), processed and transferred to a Control Cen- ter using IEC60870–5–104/101, IEC61850, DNP3.0, and Modbus RTU/TCP protocols.
From meter data concentration to protocol conversion, iGWlite can act in any kind of control or automation system, specially in generation plants or high voltage substations, using any kind of communication protocol and media.
Availability of a wide range of protocols including IEC60870-5-101/102/103/104, IEC61850, Modbus RTU/TCP, JBUS, DNP3.0, DLMS, Procome and Profibus DP.
Multiple communication media options, including serial ports (RS232/RS485/fiber optic) and Ethernet (10/100BaseTX with RJ45 and FX100 fiber optic with SFP modules or ST/SC connector).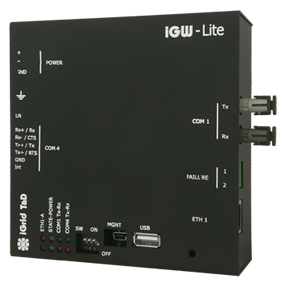 Multiple simultaneous control centers, with one or more com- munication protocols.
IEC 62351 Cyber security compliance (TLS/SSL, VPN, SSH, HTTPS, RBAC, ACL).

IEC 61850-3 EMC compliant.

IEC 61131-3 PLC automation programming.

IEEE 1588 and NTP time synchronization.

Microseconds timestamp resolution and high accuracy RTC with 1.5ppm time drift.

Ethernet interface with independent MAC address and multiple IP address configuration.

Support for VLAN and VPN connections.

Transparent TCP bridging.

iGWlite comes with a full range of protocols including IEC 60870-5-101, IEC 60870-5-104, IEC61850 MMS client/server, IEC 61850 GOOSE publisher/subscriber, Modbus RTU/TCP, DNP3.0 (serial and TCP), among others, in order to ensure the communication with new and legacy IEDs and SCADA master stations.

Meter connection with DLMS, IEC 62056-21 and IEC 60870-5- 102 protocols.

Protection relay connection with IEC 60870-5-103, SpaBus, Mlink, Procome, Profibus and IEC 61850 (MMS and GOOSE) protocols.

Device Alarm relay (optional) 
General
Configuration & Maintenance
Easy configuration with iConf tool.
Internal web server, allowing the real time monitoring of the system and all internal parameters.
Command console with complete information of packet exchange, on all available protocols.
Local or remote maintenance connection using USB or Ethernet ports.
RTC
High accuracy real time clock with 1.5ppm drift and microseconds resolution timestamp.
CPU Features
ARM Cortex-A7 @ 528MHz, with 4GBytes Flash and 256MBytes RAM.
Communication ports options
Serial port: Up to 2 ports with RS232/RS485/RS422 selected by software, or multimode fiber optic with ST connec.
Ethernet: (1) 10/100BaseTX port with RJ45.
iGComms Software application
Time synchronization
Server: NTP, IEC60870-5-101, IEC60870-5-104, DNP3.0, NTP.
Client: IEEE1588(PTP), SNTP, IEC60870–5–101, IEC60870–5–102, IEC60870–5–103, IEC60870–5–104, DNP3.0, DLMS, Procome and Profibus DP.
iGComms communication stack
Master/Slave IEC60870-5-101
Master/Slave DNP3.0 (serial, UDP, TCP)
Master/Slave Modbus TCP/UDP and JBUS (master)
Master IEC60870–5–102
Master Profibus DP
Master IEC62056–21
IEC61850 MMS Client/Server
Master/Slave IEC60870-5-104
Master/Slave ModbusRTU
Master IEC60870-5-103
Master DLMS
Master Procome, SpaBus, Mlink
SNMP Agent/Manager
IEC61850 GOOSE Publisher/Subscriber
Security
IEC 62351–3 and IEC 62351–5 support, including TLS/SSL, SSH and VPN connections.
IEC61131-3 Automation
Logic and PLC programming, with LD, FBD, ST and SFC editor.
Logical and mathematical expressions
LUA language for creating simple and complex logic and mathematical expressions.
Device Features
Power consumption
Depending on the model.
Power supply
W : wide range, 32 – 250Vdc / 80 – 250Vac (2.5kVrms isolation)
24 : 19.5-60Vdc (2.5kVrms isolation)
EMC type test
IEC 60950-1, IEC 60255-5:2000, EC 60255-22:2000, EN 55022, IEC 61000-6-4, IEC 61000-6-5, IEC 61000-4-2, IEC 61000-4-3, IEC 61000-4-4, IEC 61000-4-5, IEC 61000-4-6, IEC 61000-4-8, IEC 61000-4-9, IEC 61000-4-10, IEC 61000- 4-12, IEC 61000-4-16, IEC 61000-4-17, IEC 61000-4-18, IEC 61000-4-29
Environmental
Operating temperature : -25oC to +70oC
IEC 60068–2–1, IEC 60068–2–2, IEC 60068–2–3, IEC 60068–2–14, IEC 60068–2–30, IEC 60068–2–38
Vibration & Shock test
IEC 60068-2-6, IEC 60068-2-7
Physical
External dimensions: 120x115x65(mm) (mm)
DIN Rail mounting
Ordering Information
Do you need more information? Just contact us
Basic information about our data protection:
Institution in charge: IGRID SL. Purposes of data processing: Customer contact. Archived data location: Raiola Networks SL (UE). Personal data retain period: Until removal request. Rights: You can exercise your rights of access, rectification, cancellation and opposition.